Our Mission & History
Taylor Water Technologies: Where We've Been and Where We're Going
---
The mission of Taylor Water Technologies is to be a highly valued business partner that provides superior solutions to the water-testing marketplace. We will have an unrelenting focus on our customers, operational excellence, and sustainable growth while remaining committed to a safe, respectful, and positive work environment.
The year 1930 was quite a year for new product introductions. For the first time, windshield wipers, camera flashbulbs, and Taylor test kits were on the market. Servicing mostly industrial accounts, W. A. Taylor & Company was the brainchild of Dr. William Taylor, Fred McCrumb, and Dr. George Miller. The trio began production with a strong knowledge of chemistry, a handful of employees, and a lofty goal—to manufacture the world's best water analysis products.
In the early '40s, Dr. Taylor relocated the business from downtown Baltimore to the corner of Stevenson Lane and York Road in Towson. One three-story building did it all: The basement acted as the warehouse, the office and production operations were on the main floor, and the owners resided upstairs. The limited space of what was once a private home posed challenges; however, the team took full advantage of all that the building had to offer. In only a short time, the number of employees doubled. One newcomer was a man named John Lambrecht. He would dedicate his career to the company and help to shape its future.
We Go Nationwide
After Drs. Taylor and Miller retired in 1967, Mr. Lambrecht became Taylor's president. His ownership brought about many changes for the company, which was now named Taylor Chemicals, Inc. It was under his leadership that Taylor entered the pool/spa market.
Taylor's visibility, particularly in the pool/spa market, steadily increased throughout the '70s. Part of the company's success stemmed from its creation of liquid DPD, a chemical used to measure chlorine's effectiveness as a sanitizer.
We Enter World Markets
Becoming an international competitor in the water analysis marketplace was important to Paul F. Wooden Jr., who purchased the firm in 1980 and renamed it Taylor Technologies, Inc. Besides investing in modern equipment to improve quality control and turnaround times, Taylor's new president established the network of distributors that now supplies our test kits worldwide. He also moved the business 10 miles north to its present base of operations, an industrial park in Sparks, Maryland.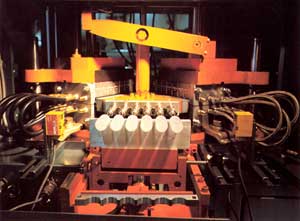 While still manufacturing test kits for swimming pools and spas and industrial boiler and cooling systems, Taylor's product line now includes kits for numerous other uses throughout the industrial water treatment industry.

"What I've sought to do is grow the business, but in doing so, I haven't altered what's always been at the heart of Taylor—treating employees and customers with respect and consideration," says Paul Wooden." And we still hold the same goal as our founders did in 1930: To manufacture the best water analysis products around." Taylor Technologies would stay in the Wooden family, led by Paul and later his son Alex, until 2017 when Stephen Heard purchased the company.

Looking to the Future
Stephen came to Taylor with over 27 years of experience in the water treatment industry. During that time, he worked in nearly every business discipline, including sales, sales management, manufacturing, supply chain, business management, mergers and acquisitions, and strategy. He also developed a global network of suppliers, customers, and innovators in the fields of science, technology, and product development and distribution. As CEO of Taylor, he fostered a collaborative mindset and worked to reinvigorate the company culture. Today, we strive to provide groundbreaking, high-quality products, maintain our renowned customer care, and supply expansive educational opportunities to all those in the water treatment industry.
Consumers and professionals alike recognize Taylor as the most trusted name in water testing, and we have earned that trust by consistently producing top-quality, reliable, and accurate testing equipment.