NCH Award Received at Golf Outing
Published: 2/7/2016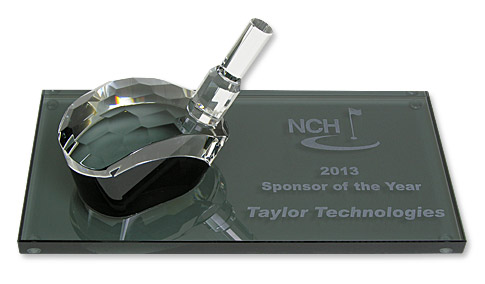 It's a tough job but somebody has to do it...represent Taylor at golfing events, that is. Luckily, business development director Chris Golden is always ready and willing to hit the links for us.
At a May outing with Chem-Aqua and other divisions of the NCH Corporation, Taylor Technologies was named Sponsor of the Year and Chris personally was singled out for special recognition.
In making the presentation, Jerry Angelilli, Senior Engineer/Manager of Oxidative Technology for Chem-Aqua, said, "Chris has taken the business partnership we have enjoyed for many years to a higher level. He has consistently and professionally developed personal friendships with many of our NCH associates. As one of those individuals, I believe Chris demonstrates the ideals and philosophy promoted at NCH: to provide reliable products and service with integrity through personal relationship development. Congratulations on this well-deserved award."
For attention of NCH-caliber to your water-testing needs, contact Chris at 800-837-8548. He will be pleased to discuss which of our products for industrial water treaters are most appropriate for your applications.